Each and every summer for the past few years, my visit to the Decorator Show House in
York Harbor, Maine
has proven to be one of the interior design related high points of the season.
Show houses are always sources of inspiration for interior designers and clients alike. They allow the designers participating in the project to get as creative as the organizers and spaces allow, and show us their up-to-the-minute ideas. The experience can motivate we designers to try new things (a different hue, a mixing of fabrics and patterns, or a different use for an object perhaps?), and home owners to update their own spaces in small or substantial ways.
The York, Maine show houses are always a bit magical. Just driving through the curvy lanes of York Village to the Harbor, where this year's house is located, you can easily see how this area became a popular summer colony at the turn of the 20th century… and it still is today.
This year's was the 21st Annual Decorator Show House, which is a major fund raiser to benefit the Museums of Old York. The home is called "Twin Cottage" because it is the twin sister to "Mayfair," the 2007 Show House. The house itself was built in the Shingle Style in 1904 and overlooks the Atlantic Ocean and York Harbor Beach. I had not done any research before visiting this year, and the minute I drove up, I thought that the house looked a tad familiar. But once I walked through the front door and into the foyer, I knew that it was related to the neighboring home I had toured a couple of years ago. The layout is similar, but to the participating designers, it was a new canvas... no two design interpretations will be alike, even if the houses might appear to start out that way! (This is a good reminder to those who fear that their home is too 'cookie cutter' to be exceptional!)
Below are a few photos that I snapped of the lovely Shingle Style home… photography was not allowed inside, but once the designers make pictures of their work available, I will pass my favorite spaces on to you.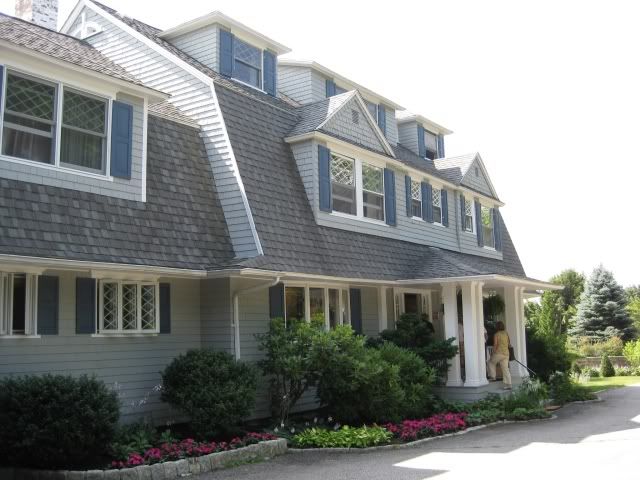 Front view from the garage plaza

Ah, here I am...

just wishing I could spend the rest of the day
luxuriating on the veranda!