I think that the most beautiful decorative accessories that you can use in your home are made of glass. And that goes double when it comes to decorating in the summer.

When you have taken down your heavy window treatments (and washed your windows!), when the skies are bright and the sun is shining, what better way to bring some sparkle into your life than with reflective glass objects?

Any time I am placing lighting in front of or near a window, I search out a lamp with a glass base, clear or in a color that coordinates with the space. Rather than block the natural light, the lamp accentuates it and makes it literally shine.

And when accessorizing, I reach for glass candle holders, statues, vases, and jars filled with sea glass (more on that another time!). My personal favorites are an ensemble of clear, green and varied blue glass floats delicately poised on a frosted glass footed bowl soaking up the sunlight near the French doors in my great room.
Their hollow forms allow the sun to pass through from one to the other, melding their hues, and their mottled surfaces echo the suns rays.

This particular collection is special to me beyond its intrinsic visual allure. Here's the story of their provenance...

The floats belonged to interior designer and lifestyle author Alexandra Stoddard and her husband Peter Megargee Brown. I became a fan of Alexandra many years ago, when I first picked up a copy of one of her earlier books, Living A Beautiful Life. Since then I have read every book she has written. Her beliefs about gracious living are always eloquently put, ring true for me, and I in turn pass them on to my clients. She not only writes about interior design, but about other aspects of celebrating life and interpersonal relationships. Her philosophy is to "Love and Live Happy!" Who doesn't want to do that?

A few years ago, my husband and I had the opportunity to attend a "Happiness Weekend" hosted by Alexandra and Peter near their village home in Stonington, Connecticut. We, and a small group of devotees, spent the weekend experiencing first hand the gracious living that Alexandra encourages. She and Peter even invited us into their home, which we had only seen in photographs. What a joy and thrill! At the time, they had two homes, their lovely cottage in Stonington, and a 'primary' residence on Park Avenue in New York. They shared with us that they were at a point where they wanted to lessen the weight of their acquisitions. As special as the objects were to them, they did not want to be burdened by the volume of things they had accumulated. Each of us was given the opportunity to point out an item that spoke to us, and if we were lucky, it might be something they could part with. I'll bet you can guess what I had my eye on... those floats! Now, each time I glance at them, I envision them in their original home, where they brought beauty and joy just as they do in mine!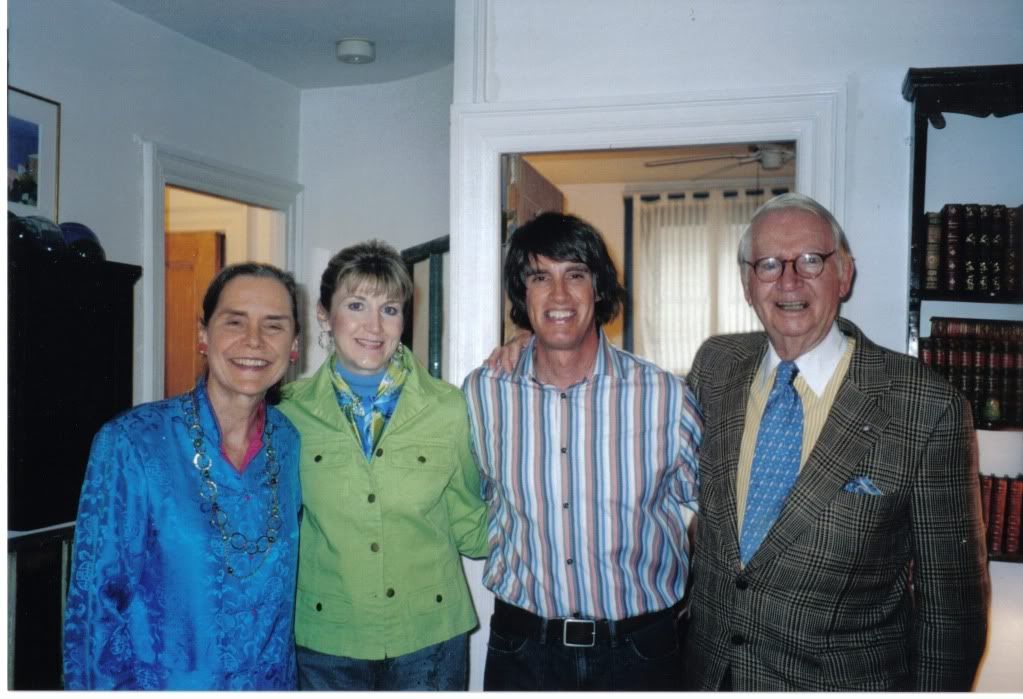 Alexandra, me, David and Peter
If you look carefully, you will see the glass floats
perched on top of the cabinet above Alexandra's shoulder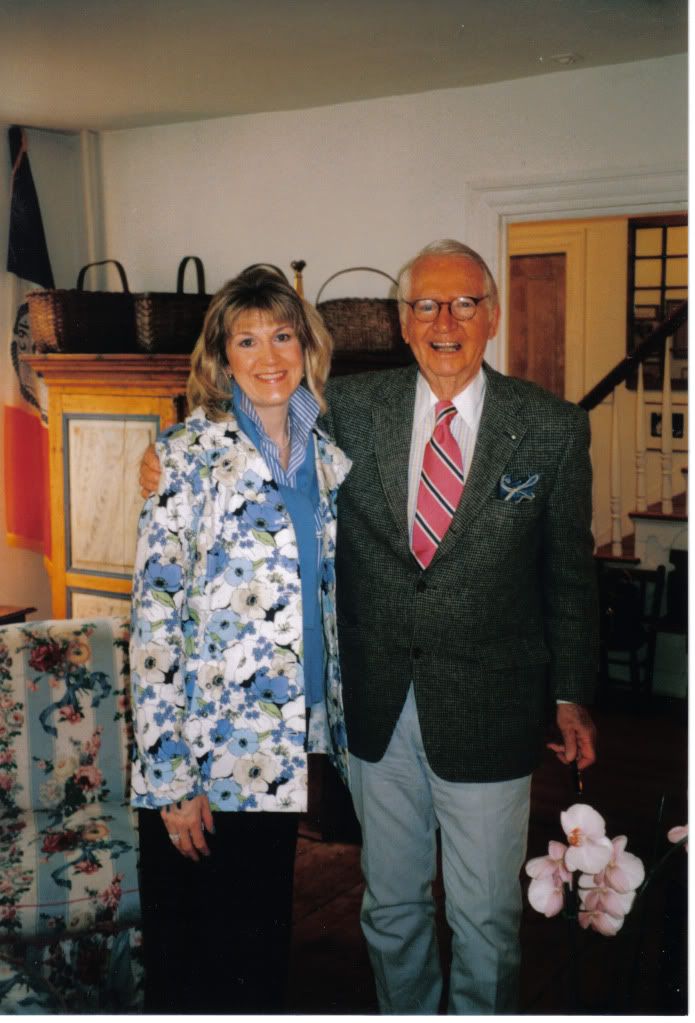 To learn more about Glass Floats:
http://en.wikipedia.org/wiki/Glass_float
http://www.glassfloatjunkie.com/
For more on Alexandra Stoddard & Peter Megargee Brown:
http://www.alexandrastoddard.com/
I hope that this leaves you feeling buoyant!